Home Theatre Installation Melbourne | Free Quote
Start with a free quote...
Picture a TV screen that appears from nowhere, LED lighting in the background to set the ambience, and in-ceiling or in-wall speakers delivering cinema-quality sound. If you enjoy watching movies or your favourite TV shows in the comfort of your home, then you should consider getting a home theatre installed.
Your Electrician Bayside can set up your own home theatre with no messy cables and create a great environment for the family. Our expertise and use of quality equipment ensure your living space will become an area where unforgettable cinematic experiences happen.
Find out how we provide the home theatre installation Melbourne homeowners love. Contact us today!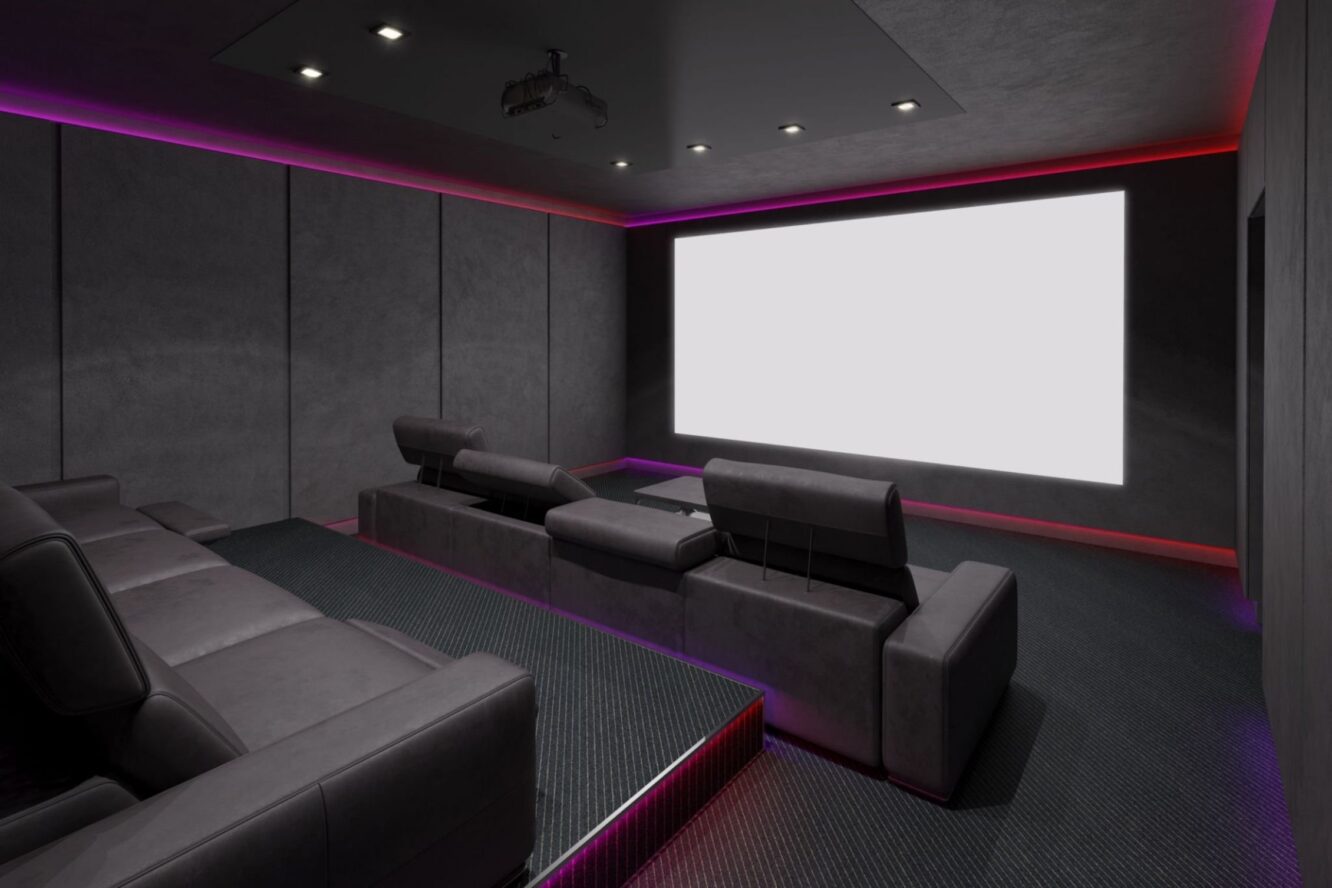 Melbourne's #1 Home Theatre Installers
If there's one thing that differentiates an exceptional home cinema system from a room with a large TV, it's that the best entertainment rooms have proper electrical wiring that powers their systems. That's why people planning to set up the home theatre system of their dreams should seek professional help from a licenced electrician.
At Your Electrician Bayside, we set up a home cinema system personalised to meet your needs. Our electricians in Melbourne will design, wire, and install all necessary components to absolute perfection. We also help homeowners looking for help with any issues regarding their home cinema system.
Why Choose Our Home Theatre Consultants?
Have you finally decided to invest in a new home theatre system? If so, then there are many things you need to consider other than just the equipment you plan on buying. You need to seek expert help to ensure you get the most out of your setup.
Your best bet is to consult with a professional home theatre installation provider early on. Your Electrician Bayside can install a system that's both safe, functional, and provides the desired viewing experience you've always wanted.
Here are the main reasons why you should choose us for home theatre installation:
Things to Consider for Your Home Cinema Installation
With a home cinema, you can enjoy all the fun of going out to the movies from the comfort of your home. And even better, you can relax in your most comfortable lounge clothes while taking advantage of unlimited free popcorn refills.
But a home theatre installation isn't a project you should rush into. There are many factors you need to think about before you can create the cinema of your dreams. We are here to help guide you through the entire process of installing the best home theatre.
These are the main factors to consider for your home cinema installation:
Why Install a Home Theatre?
Home theatres offer a unique and immersive entertainment experience that commercial cinemas cannot match. These spaces allow you to enjoy a cinematic experience from the comfort of your own home. You also benefit from superior sound and picture quality, customised seating, and access to the snacks you want.
With that said, here are the main reasons why you should consider installing a home theatre:
Hire a Home Theatre Installer Today
Your Electrician Bayside can provide homeowners with quality home theatre installation services in the area. Our many years of experience in the electrical industry have allowed us to develop a reputation for attention to detail and exceptional service.
We have a hard-working team that prides itself in having licenced and highly skilled electricians. Each member has the expertise to take on any home theatre installation project, big or small. We use the latest technology and tools to make sure that your TV system is installed to the highest standards.
Additionally, we know that each home is unique. That's why we will work closely with each of our clients to design a home theatre system that meets their specific needs and preferences. From cables to alarm systems to surround sound capability and wall mounting concept, we've got you covered.
If you're looking for a reliable and experienced electrical company that provides the best home theatre installation services in Melbourne, look no further than with Your Electrician Bayside. Contact us today to schedule an appointment and make your home theatre dreams a reality.